Dialysis Access Center
---
EXPANDING THE NEPHROLOGIST'S PROCEDURAL DOMAIN
COMPREHENSIVE TRAINING PROGRAM ESTABLISHED BY DAC", Inc. TO BECOME AN INTERVENTIONAL NEPHROLOGIST.
The physician must receive training during their Nephrology fellowship or acquire the expertise at a center of excellence in order to become a recognized interventional nephrologist. Training at our teaching center is included in our package. Training is also available for allied health professionals and support staff.
TRAINING PROGRAM OUTLINE
DAC", Inc. will provide the nephrologist with hands-on training in patient care for a minimum of 100 cases, 50 as primary operator. This will include:
GRAFT CANNULATION
ANATOMY, PHYSIOLOGY AND PATHOPHYSIOLOGY OF DIALYSIS GRAFTS.
VENOGRAPHY
ANGIOPLASTY AND ANGIOPLASTY TECHNIQUES
THROMBECTOMY
INSERTION AND REMOVAL OF CUFF CATHETERS
IV SEDATION
INFORMATION MANAGEMENT SYSTEM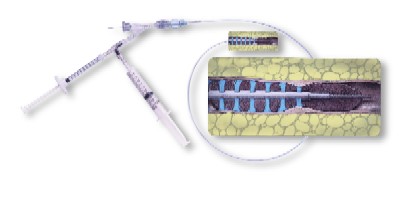 In order to learn more about our comprehensive training program and an agreement to provide these services, contact Oliver Khakmahd, MD at 510-251-1002.
Webmaster: Oliver Khakmahd, MD
Copyright © 2000-2006 [DAC]. All rights reserved.
Revised: October 01, 2007